We made it halfway through the year! If you're looking for a sign to do some home improvements, this is it. Spruce up your living spaces this July with Ethan Allen's Mid-Year Sale!
From your living room, to the dining area, all the way to your home office – now's the perfect time to bring in Ethan Allen's timeless pieces into your home. With discounts starting at 20% off on all items including new arrivals, and deeper discounts of up to 60% off on clearance items, you will surely find something to elevate each space during our Mid-Year Sale!
Here's a little sneak peak of what's in store:
For the Bedroom: Huntsville Bed
Level up your bedroom interiors with the Huntsville bed, a new-fashioned Indonesian mahogany low-profile bed that invites stylish rest and relaxation. The Huntsville features simple lines in spades: a clean-cut headboard with widely spaced lines, a low footboard, and slats that support a standard or ultra-low foundation and mattress.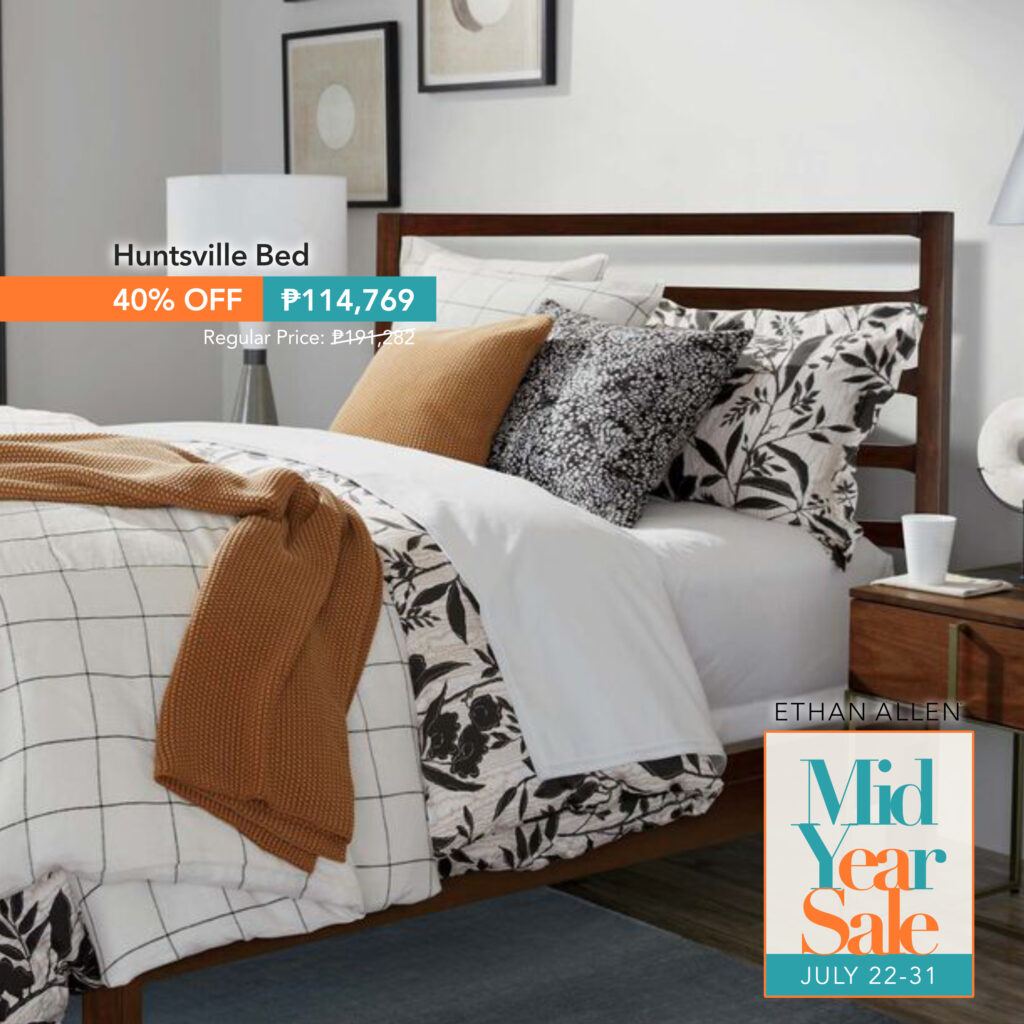 For the Living Room: Harley Chair
Balancing modernity and comfort in the living room can be tricky, but our Harley leather lounge chair is the exception. The Harley shows off a gorgeous mid century-modern vibe, and is unbelievably comfortable – you could sit on it for hours! Add a single Harley low lounge chair to any space, or pair them up for added effect. It's all the comfort you can handle—and all the modern you can manage.
For your Home Office: Verena Glass-Top Sawhorse Desk
Streamlining the classic, utilitarian sawhorse design and giving it a modern spin, and gave way to the Verena sawhorse desk. Verena is chic, minimalist, and versatile enough for any room setting, and can function as a striking console, too. It features mild steel pedestal bases and a tempered glass work surface, with pencil polished edges for safety and a distinctive style. Metal clips, part of the glass-top sawhorse desk's base design, provide added stability.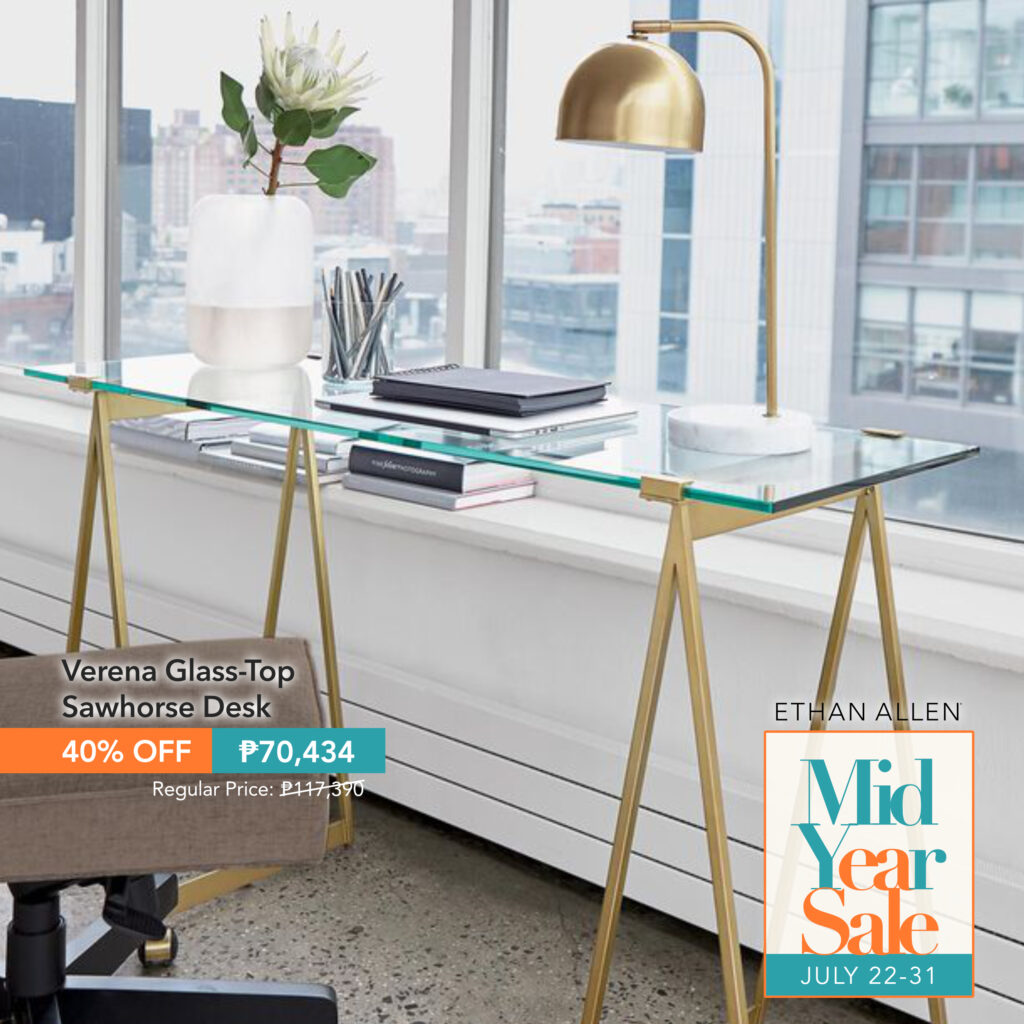 For the Dining Room: Evansview Rectangular Dining Table and Starburst Chandelier
If you're the kind of person who knows a star when you see one, then Evansview is the rectangular dining table for you. What distinguishes Evansview from other dining room tables is its amazing pair of legs; the bold yet sophisticated champagne brass finish takes those curvy pedestals into the stratosphere. The rectangle wood dining table top also has that unforgettable star quality; namely, a starburst pattern created with hand-applied sapele veneers.
Complete your spectacular dining space with the Starburst sputnik chandelier. This bold mid-century beauty features spines of varying lengths that radiate from a central globe in a dramatic fashion. Its bulbs, reminiscent of antique Edisons, add to its retro appeal. Finished in your choice of nickel or metallic gold, this starburst chandelier sparkles in modern, glamorous, and eclectic settings.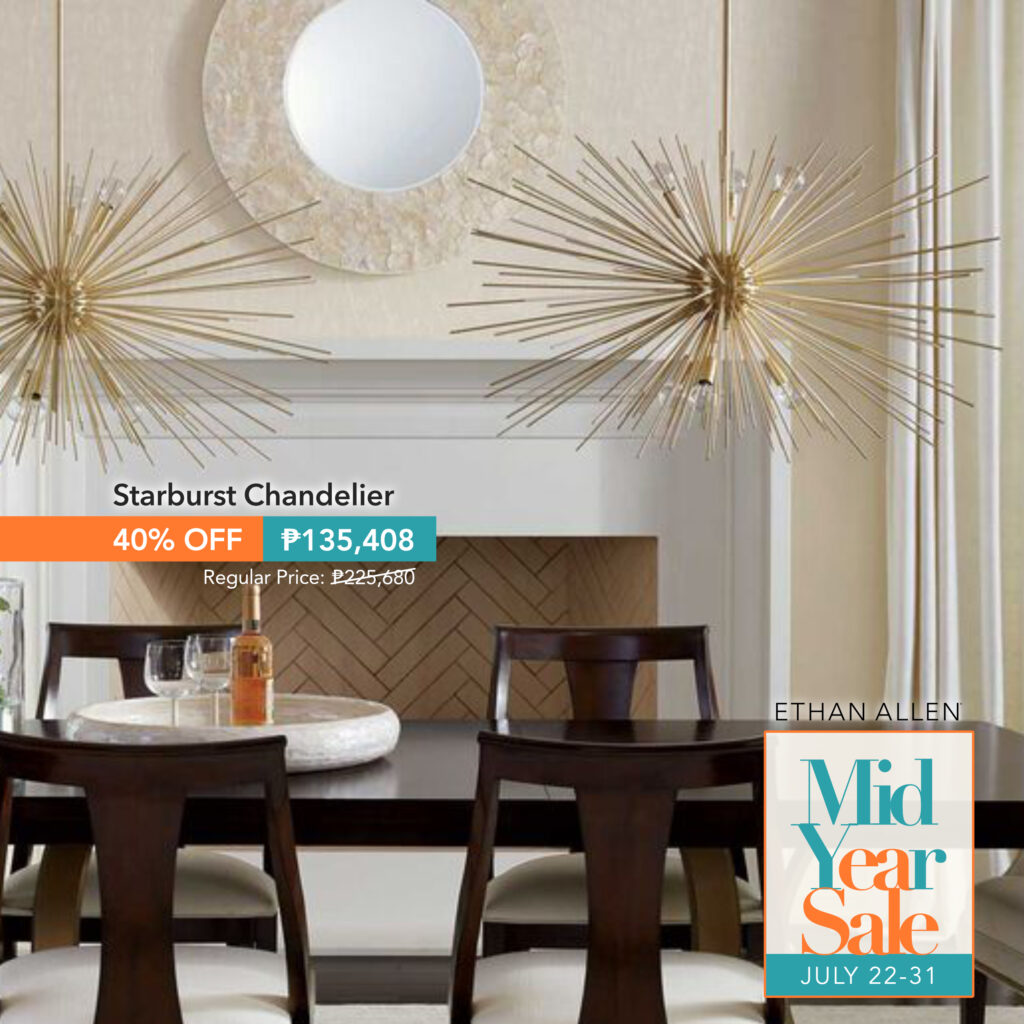 Discover these amazing pieces and more when you visit our Ethan Allen Design Centers in BGC or Pioneer from July 22 to 31. Get in touch with an Ethan Allen Design Specialist today to learn more about our offerings or visit bit.ly/EA-MYS-Blog to view our catalog.